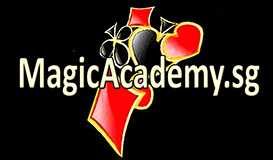 This is proper Magic, Sleight of Hand and Misdirection training
at its very best. We provide high quality professional Magic lessons, Magician Training & Tuition for Team Building, Events, Magicians, Schools, Colleges and Individuals.
Magic Academy offers the widest range of Magic available for corporate training, family days & staff performance of stage shows for your own events.
Card Conjuring
Card techniques with a few cards 3 Card Monte, Appearing cards, Color changing Aces . Card techniques with a full pack.
Shuffles, Control & standard moves for all card tricks at beginner level. Card routines using the above techniques.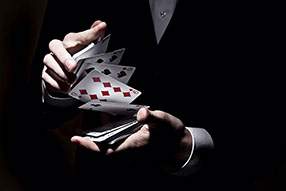 Examples of Tricks we Teach in our Corporate Workshops
click here
Magic is an interactive art & Important benefits derived from Magic come from performing for others.
Confidence, Public Speaking Skills, Manual Dexterity Skills, Reasoning Skills, Creative Skills & Performance Skills
Stage Magic & Performing
Putting on a show with skills learnt & favourite props / gimmicks
AShort Presentation by each student for rest of class
You are now officially a Magician. Congratulations!
Magic effects will add to your presentation, making your speeches/lectures more interesting and fun!
Magic and sales both require good presentation skills. Presentation skills you learn will improve your sales.
The verbal & non-verbal communication flowing between performer & audience that are unique to Magic.
Bar Bets & Hustles

– (Cool Tricks & Street Magic)

Fun hustles, challenges, games that you win every time by trick

or skill moves. Put-Pocketing, Planting props, salt shakers, napkins, glasses, lemons & more. A large selection of routines available to suit individual styles.
Our classes insure every student gets to perform in a
positive, nurturing, non-competitive environment.
Magic Academy captures students' interest & boosts self-esteem. Students learn tricks that they can quickly master
& use. This class aims to put you center stage.
Gimmicks & Gaffs Conjuring -

(Unseen Equipment)

Gimmicks allowing the vanish/appearance/bending & changing

of objects

Gaffs - Objects that are pre made & swapped out for the original.

Routines and presentations of gimmick and gaffed based illusions
It is partly a Magic class, partly Theater class & partly Presentation class.
You will also learn to develop a good balance of technical
skills & showmanship which is necessary for Magic.
Mental Conjuring –
(Mind Reading).
Predictions, manipulation, forcing objects onto the audience
Techniques:

Magicians Choice, One Ahead, Multiple Outs, Stooges and Gimmicks.

Mentalism routines & presentations using techniques above.
By forming your own story (patter) with your Magic tricks
you will sound & act like a confident performer right away.
In our courses & workshops participants learn everything
from the basics of how to handle playing cards to
performance of miracles with almost any item available.
Impromptu Conjuring -

(Everyday Objects)

Magic Effects with Money, Rubber Bands, Pens, Cutlery & everyday items on hand.

Techniques applicable to any small objects and specific materials e.g. Rubber bands

Routines and presentations with objects that are normally on hand
Levitations - (

Floating Small Objects)

Fly a card around your body, make a pencil stand up, return a flying item. Techniques and props required to levitate objects with an audience close by.

Routines, techniques and staging required to present astounding magic.